Tube passengers discard 9.5 tonnes of free papers a day - London Newspapers
---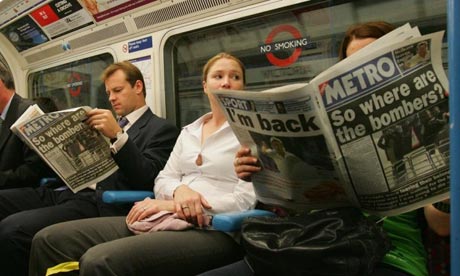 London underground passengers are discarding nine-and-a-half tonnes of freesheet newspapers a day on three of the tube network's busiest lines, it emerged today.
Commuters on the on Northern, Piccadilly and Jubilee lines are cluttering up carriages with copies of the Metro, thelondonpaper and London Lite, according to the contractor in charge of maintaining the lines.
Tube Lines said the amount of waste paper has tripled since Associated Newspapers, publisher of London Lite, and News International, owner of thelondonpaper, launched a freebie battle over London readers.
The company admitted today that the piles of unwanted newspapers had contributed to it missing one of the targets in its Public Private Partnership contract with Transport for London, the public body that owns the tube network.
"There has been a huge increase in the numbers of free newspapers being left on trains; typically 9.5 tonnes are picked off trains each day now, compared with 3 tonnes in the past," said Tube Lines.
A spokeswoman for the company said the freesheet mountains were straining staff resources, with armies of cleaners being deployed in the morning to sweep up copies of the Metro and then filing out in the evenings to bin thelondonpaper and London Lite - the free version of the Evening Standard.
"There are so many of these free newspapers when the trains get to the end of their journeys now. There are piles of paper and it is having an impact," said the spokeswoman.
Tube Lines said it missed its "ambience target", which measures factors such as cleanliness of carriages and how secure passengers feel during journeys, between July and September this year. Under the terms of the PPP agreement, Tube Lines will receive a lower maintenance payment from TfL for missing the benchmark.
The company admitted it did not have full details of why the target was missed because the ambience section is measured by a "mystery shopper" survey. However, Tube Lines singled out newspaper clutter as the most likely cause and admitted that it is powerless to prevent freesheets from piling up in carriages.
"There is very little that we can do other than ask London Underground to encourage people to take their papers with them," said the Tube Lines spokeswoman. The total tonnage of waste newspapers could be four times higher, because Tube Lines accounts for three out of the capital's 12 underground lines.
Guardian.co.uk
---
You can return to the main Market News page, or press the Back button on your browser.